Pandemic Urbanism
May 29, 2020
Covid-19, Territorial Gradients and Contagion in Housing
By Julia W Robinson
Professor, University of Minnesota School of Architecture
The author will moderate a session at the Pandemic Urbanism Symposium titled "Urban Form Beyond the Norm" from 10:15 – 11:115 on May 29, 2020.
The large number of deaths in nursing homes and incarceration facilities during this Covid-19 crisis, reveals institutional places as sites for significant transmission of disease. Research on institutional design indicates that the spatial hierarchy of territorial gradients that creates privacy may also be relevant to disease transmission.  Using syntactical, territorial and matrix analysis, among other methods, research identifies a range of housing settings: domestic, domestic with institutional characteristics, partial institutions, complete institutions and oppressive institutions[1] (Robinson 2006). The housing types with highest rates of Covid-19 deaths fall into the last two categories, complete institutions and oppressive institutions, which are also places with territorial gradients that do not separate intimate spaces from public spaces, and that have interiorized public spaces.
The territorial gradient identifies 5 territorial levels based on the numbers of people occupying different territorial levels in single-family neighborhood design in the USA: public urban (500+), public neighborhood (100-500), semi-public neighborhood (25-100), semi-private neighborhood (6-25), private household (3-6), intimate household (2-3) and personal intimate (1-2). Matrix analysis of a range of housing types reveals that housing with a high number of residents tend to have both large gaps in the territorial gradient, and also to have territories defined as public in the interior rather than out-of-doors. Compared to domestic settings, complete institutions such as hospitals and nursing homes  typically have bedrooms that open directly onto interiorized semi-public or public spaces (see illustration). Certain prisons, shelters and barracks, labeled oppressive institutions,  house large numbers of people in semi-public or public interiorized territories with no intimate or private territory. Complete institutions and oppressive institutions  are the types of housing where contagion is most likely found in this crisis.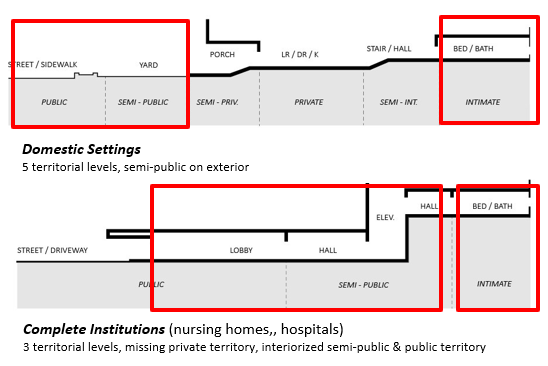 [1] Robinson, Julia W. Robinson, Julia Williams. Institution and Home: Architecture as a Cultural Medium. Delft, Netherlands: Techne Press, 2006